The study of the origin of words and the way in which their meanings have changed throughout history.

The origin of a word and the historical development of its meaning.
Society is such an interesting concept to me and to hear people speak is like people watching for my ears.  Recently, I was overhearing my little brother in conversation with a few of his friends when I heard them describe a girl as "she's a bad bitch".  Apparently a bad bitch can be a good looking woman or basically a woman who has her act together.  I'm not going to go into the bitch part of this phrase but rather the more overlooked word which is bad.  So are you a bad bitch and what exactly is a bad bitch?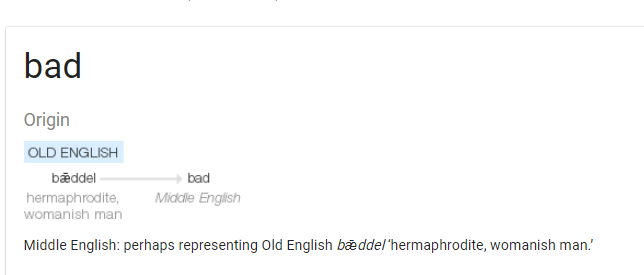 The word bad is derived from the Old English word hermaphrodite which is a person or animal who has both male and female sex organs.  The word hermaphrodite is the combined names of the Greek gods Hermes and Aphrodite.  The word bad is also rooted to the word Mal (evil, inferior, malformed).  Many believed that those born with dual sex organs were deformed and ostracized throughout society for their condition.  The study of the word is not to focus on what is right or wrong because people are born the way they are and have no choice, but rather focus on the energy the word carried throughout history.  Even the general meaning of the word bad carries negativity (evil, less quality, etc.) so not too sure how it fits in to describe a desirable woman.
My brother now has a quite different perspective on using that word to describe an attractive woman.  I feel its very important how we refer to our women.  Words are powerful and we must always be aware of the words we use especially those words that seems to grasp society's attention.
The Amazing Grace of the Hidden Word